Imprint
Legal provider identification:

Locawo
Inh.

Große Str. 31
21380 Artlenburg
Germany
Telephone: 0 41 39 / 69 99 709
Fax: 0 41 39 / 69 99 708
Email: hallo@locawo.com
Web: https://locawo.com
Social Media: https://linktr.ee/locawo
VAT identification number:
VAT ID number: DE 348 854 920

Our bank details: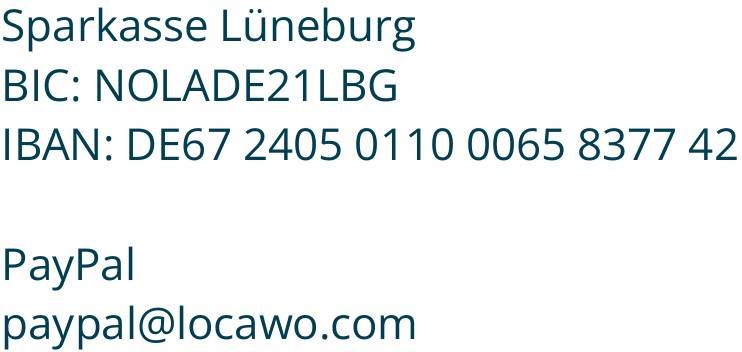 Responsible for content in accordance with Section 18 Paragraph 2 MStV:
Mr. 
Große Straße 31
21380 Artlenburg
Deutschland
Verwendetes Shop-System:
Powerd by JTL-Shop.

Alternative dispute resolution:
The European Commission provides a platform for out-of-court online dispute resolution (OS platform), which can be accessed at https://ec.europa.eu/odr. The Consumer Dispute Resolution Board Online Arbitrator, Center for European Consumer Protection e.V., Bahnhofsplatz 3, 77694 Kehl would be responsible for consumer disputes, available at https ://www.cec-zev.eu/de.

However, we are neither prepared nor obliged to take part in a dispute resolution procedure before a consumer arbitration board.